What is a Reflective Essay?
A reflective essay can simply be referred to as introspection. With this type of paper, one delves into his/her feelings, opinions, and personal experiences about a subject and how it develops the transformations in your attitude. With a reflective essay, you're supposed to stay objective and only write about opinions that you possess enough data to prove your point of view.
When writing reflective essay examples, you'll have to think about your experiences, events that impact your thoughts, and even good and bad acts. Writing reflective essays is enjoyable because you have to disclose your learning and development brought about by particular experiences. Most students tend to ask this question, "how can I come up with a good reflective essay or what are some of the tactics of reducing errors in my paper?"
Some end up having difficulties in coming up with a good reflective essay as well as narrative essay because it might be their first time doing so. This article provides the dos and don'ts of writing a good reflective essay.
Dos of Creating Reflective Essays
For the writing process to be smooth, the following are things that you ought to do:
Come up with a thesis – A thesis is simply the main statement that represents the scope of your work. It's an extract of what you desire to achieve with your work. Your thesis statement should be clear and precise, and consist of one or two statements.
Create arguable points – After defining your scope of work via the thesis statement, you'll need to break it down into several parts to come up with arguable points. This process should be well composed and well planned so that you produce strong arguments for your paper.
Write a concise reflective essay – Your paper should not only be comprehensive but also be straight to the point. Explain your experience by utilizing the best adjectives and nouns out there.
Be honest – There's no need for you to exaggerate the experience to the point that it appears fake to the readers.
Don'ts of Creating Reflective Essays
Now that you know the important features of a reflective essay, and the dos and don'ts of writing this essay, the following are some of the things that you aren't supposed to do when writing this paper:
Do not be subjective.
You should not repeat yourself.
You should not contradict your position. Stick to it!
Professional Uses of Reflective Essays
Medical students – They write about patients they see. They can utilize this type of essay to describe a particular patient and what they think about the patient as they determine the correct statement.
Teachers – They gain from writing about their experiences in teaching and also carrying out case studies of difficult students. Through looking at patterns on what worked and what didn't, they can plan their lessons effectively and solve problems relating to students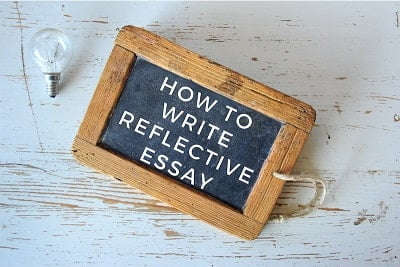 Some Reflective Essay Samples
With the above points on how to write a reflective essay in mind, the following are reflective essay samples to give you help you out:
My Best Friend
My best friend's name is Spencer, and we first met back when we were college freshmen. Actually, we met through a guy that we had both befriended (Shawn). Shawn and I shared the same dorm. One day he came up to me and told me that I had to meet someone whom he thought we would get along well.
When we finally met, we immediately clicked. We came from the same city, listened to the same kind of music, enjoyed writing, and he was also an avid basketball fan. We, however, did not share the same dorm. In my time in college and after college, I not only found a friend in him, I also found someone who was equally creative. In my opinion, I don't think that we are just friends based on the interests we have in common. That connection is still useful. However, the main reason as to why we are close friends is that our worldviews are the same. While in college, we invited each other to our dorm rooms to listen to music, watch highlights of basketball games, play video games, talk about what was happening in the world, and also write a lot. It was clear that Spencer was the person that I established a strong bond with on campus. Unlike most students, I was not a drinker. Spencer was also not into that, so we found common ground in that area. I also mingled with other students, but when they started to drink and do other drugs, I found it hard socially amalgamate with them.
Spencer taught me a lot. I was not into playing chess, but through his guidance, I'm now a good chess player. He was not into soccer, but when I introduced him to the game, he fell in love with it. Spencer taught me about being selfless. He was a staunch believer in giving back. He still is. His personality is admirable. He is not full of himself, always positive (even if he's surrounded by negative individuals). He has a large heart and is always involved in giving back to the community. He is always ready to lend a helping hand. All these actions have inspired me to be like him, to do good things.
After graduating from college, he managed to secure a job in another city, while I got mine in our hometown (though in the same state). In spite of the distance, we kept in touch via emails, and whenever we could, we would meet to take a walk, watch a game or two, talk about many things, play a game of basketball, among other things. In the coming years, we continued to visit each other. When I decided to get married, he was my best man, and I was his at his wedding (my wedding came first). We never had the feeling that we were losing contact with each other (even after settling down). We've continued to call each other and also communicate via email. Even now that I live in London, our relationship is still strong. This is as a result of us not forgetting about each other, and our connection is still intact. Just two months ago, he came together with his wife and son to visit us. Other people might drift away from your life gradually, but a true friend stays on your mind always.
In addition, I think that the spiritual aspect of our friendship strengthens our bond. I have made many friends, but we are not as close as the way I am with Spencer. This kind of friendship might only occur once or twice in one's life. You develop a feeling whereby you feel that this individual is your friend no matter what happens. These friends end up becoming more close to us than our family members and reveal to us the real significance of friendship.
Even though I've met many friends, only one friendship has lasted over the years, in spite of the various ups and downs. This friendship of ours has lasted this long because of the deep spiritual connection we share, and the interests we have in common. Right from college up to this point, we've been the best of friends, and I believe that our friendship will increase in depth and will last.
Below is another example of reflective essay:
The Case for Reading Books
One interesting open thesis statement thing in my life now is that I'm an author. I was never a fan of writing when I was in elementary school. This trend continued when I joined high school. I was not amongst the top performers in my English class. One thing that enabled me to change that trend was reading many books. My family environment and resilience was responsible for the transformation into the author that I am now.
I'm from a family that enjoyed reading books. My father was an English professor. He enjoyed reading all kinds of books, journals, magazines, among others. We even had a home library. My elder sister also enjoyed reading books. My mother, on the other hand, enjoyed reading. During her spare time, you won't miss seeing a book in her hand. Up to this day, she still has that habit. My uncle (my father's brother) also had his own library that had many books on science, geography, autobiographies, history, and Greek history, among many others. Although I was not an avid reader and writer, I was influenced to change my habits by my family.
My parents came up with a brilliant idea of giving me a present whenever I completed reading a book. Since I wanted to get as many presents as I could, I began to read as many books as possible. Books were easily accessible (from our home library of course). Moreover, whenever I visited my uncle in Charlotte, he would always encourage me to carry a book or two with me when I went back home. As a result of all this encouragement, my love for books grew.
I'm a firm believer in turning one's weaknesses into strengths. When I realized that I was struggling with writing and also speaking in English, I decided to take the bull by its horns and deal with the problem. I continued to read more and more books. I read any book, magazine or journal that would interest me. By the time I was completing high school, I was amongst the top performers in my English class. The same trend continued in college. Even though I struggled at first, my mentality changed when I realized that I wanted to be one of the best writers out there (if not the best). Before I completed high school, I realized what I wanted to be. I set my sights on becoming a renowned author in the future. I did not feel any vibe when I was in other classes (Math, Science, etc.). I felt out of place. In the English classes, you needed to express yourself and ideas efficiently. I did not see any other career for myself apart from being a writer. When I told my parents what I wanted to pursue, they didn't object to my choice. I eventually graduated with a Bachelor's Degree in English Literature. Reading books put me on the path towards becoming what I am today.
For me, if you have a passion for the written word, then you will enjoy reading books. If you have enthusiasm for something, you'll be able to learn and engage into it easily. Through passionate studying, learning becomes faster and efficient. Moreover, motivation to learn increases. If you like reading books, go for it. Nothing should stop you from grabbing a book, journal, etc. and reading it. Reading is an enjoyable activity. I can attest to that. From my own experiences, people ought to read as many books as possible in order to overcome any challenges that they might be having in school, weaknesses, and simply for the passion of reading. Go ahead and grab a book. You won't regret it.
Note: Never copy any reflective essay example or reflective essay sample word for word and always check essay on plagiarism. Just read them to get an idea of how to do your own. Plagiarism won't do you any good and your teacher/lecturer won't be pleased!